Home > 05 Oct 2019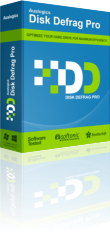 Auslogics Disk Defrag 9 PRO
Includes a 3-PC, 1-Year license
Auslogics Disk Defrag 9 PRO is a very powerful defrag tool which provides everything you'll need to keep your system running at peak performance.
The program provides multiple defrag algorithms, for instance: it can optimise access according to file access time, modification time, Windows own prefetch layout, or you can even manually define which files you'd like written to the fastest part of your drive. While leaving a little free space after specified files also helps to reduce future fragmentation.
And there are even more ways to run a defrag job. So you might choose to defragment an individual file, a folder, or an entire partition; the program can run before Windows launches, enabling it to defrag system files which would otherwise be locked; a scheduler can run unattended defrags whenever you like, or you can even leave Disk Defrag Professional running in the background, so it can detect and eliminate fragmentation just as soon as it appears.
And if you're worried about the program slowing you down, then don't - it's not going to be a problem. In just a few clicks you can limit the maximum use Disk Defrag Professional will make of your CPU or hard drive. And you can tell the program not to run at all when a particularly demanding application is running, so if you launch your favourite games, say, you can be sure they'll get 100% of your system's resources.
Today's Price:
FREE
Saving
$29.95
(100%)
This promo has expired. Please check back soon for new offers.
How To Get Your Code
Simply login (create an account if you haven't done previously) and click the "get serial code" button. You should be allocated a serial code immediately.